e-smith Web Management
As detailed on the previous page, access to the e-smith web management interface is gained by entering the URL of your e-smith gateway in a browser running on the local LAN, with the :980 portion required to connect to the web manger service, e.g., http://gatekeeper.nigs.net:980
The index page of the manager explains how to the use the web manager, but basically, you select from the options of the left and the settings for that option appear in the right hand frame. Fill in the required settings, click create and e-smith will update the configuration automatically. Very few changes made on the web manager will result in a reboot of the system and there will be no loss of service whilst e-smith updates itself.
The left-hand menu is divided into sections, with all sections being shown in the following two screen dumps. Below the screen dumps is a brief description of the menu options and links to further screen dumps detailing some configuration examples as used on our own system.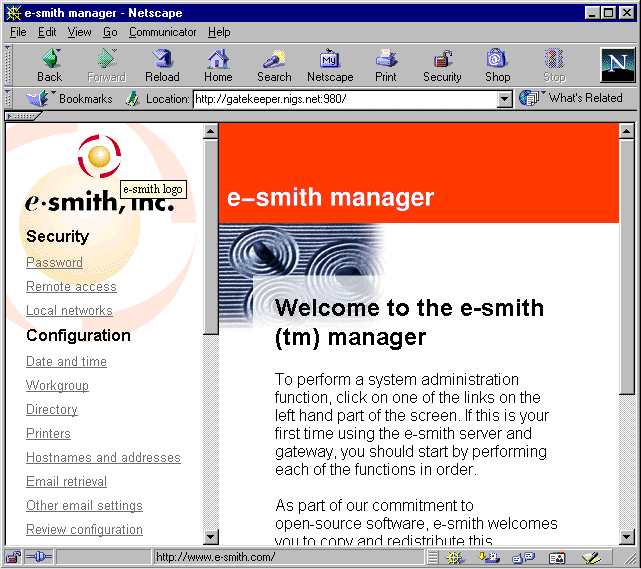 Security
Password

Use this to change the administration password for your e-smith gateway. Passwords for other users are set within the User Account configuration screen

Remote Access

Allows the settings of the accesss option for e-smith. Accessibilty options can be set to Private (anyone on the local LAN), Public (anyone) and 'no access', which basically disables that option.

Local Networks

Not required for normal use.
Configuration
Date and Time

Obviously, the place where you set your date and time. Within this screen it is also possible to set NTP (Network Time Protocol) services and also set an external time server to which to synchronise your network. On NTL's network it is possible to use your local UBR as a time server.

Workgroup

Definition of the Microsoft Networking Workgroup you wish to run on your LAN. Configuration of these parameters allows e-smith to configure Samba to reflect your settings, and cause your e-smith server to appear in your Network Neighbourhood.

Directory

For the setting of LDAP directory services.

Printers

e-smith supports printing to either local printer ports such as LPT1 or Network printers via IP address.

Hostnames and Addresses

Adding your LAN hostnames and addresses to the e-smith list will allow you to use your host's names in applications rather than the host's IP address. Can be useful if you just want to type ftp cat to get a connection.

Email Retrieval

Establishing your Email settings is particularly important to ensure your email does not cause problems for both your users and anyone that sends you email. esmith can operate in a number of ways for email and you will need to set the relevant hosts and accounts appropriate to your set-up.

Other Email Settings

Further tweaks for email are available here, including the option to set your ISP's SMTP server. If you wish to avoid problems with the NTL mail server, leave this blank and your esmith server to will deliver directly, rather than via NTL.

Note, if you only have an NTLWorld account, then you will have to set your POP email settings to fetch from NTL's mail servers.

Review Configuration

Shows a snapshot of your esmith configuration.
The second half of the esmith administration menu appears below. The major part of the administration surrounds setting up Users, Virtual Domains and Information Bays.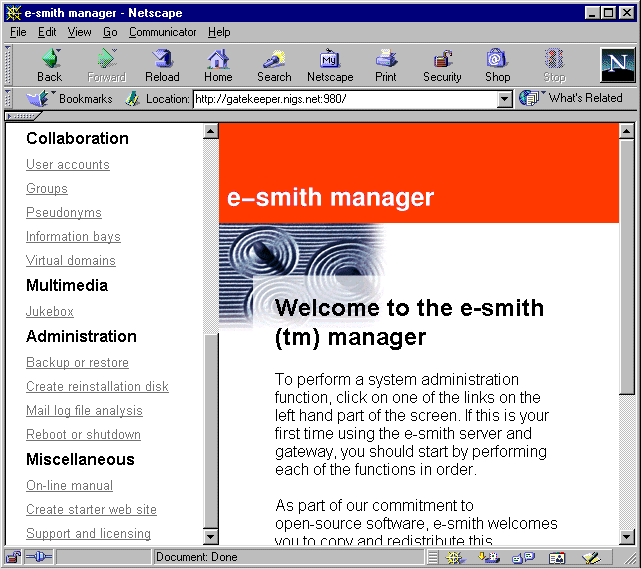 Collaboration
User Accounts

Setting user accounts on esmith is as simple as giving the User's name and the account to be used. Adding a user on an esmith gateway also enables email for that user, and will also set them up a folder within the Workgroup specified in the earlier configuration options.

Groups

With the commercial pitch of esmith it may be prudent to have a number of groups set-up to reflect the fact that an org using esmith would have a number of departments. Here, at home, we are an Autonomous Collective and I've decided we don't have any groups;-) However, you may wish to restrict your teenagers from accessing the household accounts, for instance;-).

Pseudonyms

If you need your sales email address to go to a particular user, you may set a pseudonym of sales pointing to your sales person. Not much use with the home environment, TBH, unless Tom decides, one day, that he wants to be Tam(!), but another example of the flexibility of e-smith.

Information Bays

Information Bays allow the setting of discrete disk areas to be available on the esmith server, most useful with Microsoft Networking and the file sharing capabilites thereof. Information Bays also enable the setting of individual directories for web content, so you could set up an area just for web testing purposes that would not effect your 'live' site(s).

Virtual Domains

Being in the position of 'owning' a few domain names, I find this facility very useful. As most of my domains are hosted by one company, I can use esmith to both receive and send email as any of my registered domains. NTL allow you to do this as all email from your domains comes from your NTL assigned IP address, and NTL seem quite happy for you to use their service in this way. In other words all email for my domains is picked up from an ISP other than NTL.

Multimedia

Jukebox

This option is not available by default with e-smith, but is an additional contribution by other users. Sets your e-smith server up as an mp3 Jukebox:-)

Administration

Backup or Restore

For backup of your configuration and user data, with the option to either have automatic backup to a compatible drive, or to a file on the manager workstation.

Create Reinstallation Disk

Allows the creation of a boot disc containing your configuration so that in the event of a rebuild, the configuration can be readily installed.

Mail Log File Analysis

An interesting view of your email statistics.

Reboot or Shutdown

Er, not very often. My last two downtimes have been due to power cuts that have exceeded the battery life of the UPS;-) The time before that was the change of machine and upgrade to e-smith 4.1.

Miscellaneous

On-line Manual

A link to http://www.e-smith.org/docs/manual

Create Starter Web Site

Creates a simple web site to run on your primary domain.

Support and Licensing

Information about e-smith support options.

---

©

Nig's Net

Written using the Bluefish HTML Editor on RedHat 9.0.

All Copyrights and Trademarks ACK'd. Not to do so would be a SYN!